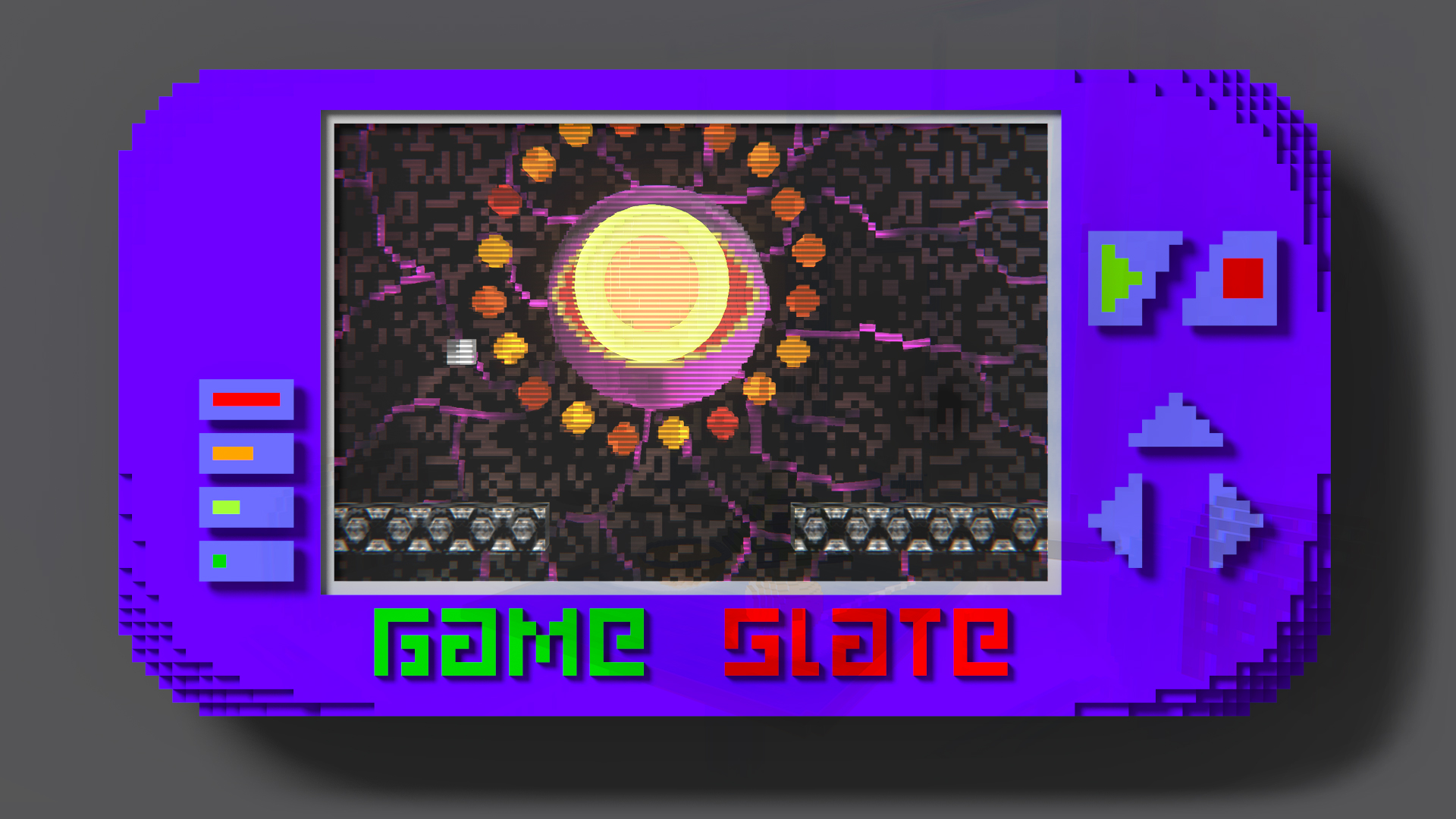 GameSlate (of Darkness)
A downloadable game for Windows and macOS
Highscores

About the Game
In vertically scrolling levels, you have to use buttons to enable or disable platforms in order to reach your target, where you need to time your attack right to hit the enemy - which is an eye - in the... well, eye.
The speed will increase with every round and additional obstacles may appear, but the score multiplier will also rise and in the end you might end up in the top 10. :)
GameSlate was originally just a minigame that the player finds in the very first room of my other game Darkness. It was supposed to be a very simple thing, but then so much time was wasted spent making this game, that I decided to release it as a standalone game.

Gameplay
You jump from platform to platform, avoiding to fall down or touch the platforms with the skulls, making your way to the eye and hitting it when it is vulnerable. But don't touch its bullets!
On your way you may have to activate buttons that toggle all elements with the same color in the level to disable evil platforms or open a path to the eye.

Features
Simple, yet demanding puzzle platformer
Online highscore list
A level editor to create your own levels

Level Editor
You can download the level editor below and create your own levels. Just save them to the subfolder "levels" of the game directory. The levels will be loaded in alphabetical order.
If you have test levels present you can hold down SHIFT when selecting "start game" from the main menu to play the normal levels.

Extra controls when playing custom levels:

Key
Function
Description
T






Test
mode





When playing a test level, you can switch into test mode, get 1000 extra lifes and play the current level in an andless loop.
Press "N" to get to the next level.



+/-




Change
round



In test mode: Change the current round to test elements that are only visible in later rounds.


X





Start
point




In test mode: Set a new start point to which you return after falling down or touching the deadly obstacles.



SHIFT+N




Previous
level



In test mode: Load the previous level.



If you have created something cool or have questions, you can contact me through the means on my profile page.

Credits
The game uses the following music tracks:
From Kevin MacLeod:
- "Rhinoceros"
- "Rocket"
- "Cut and Run"
- "Cut Trance"
- "Dance Monster"
- "Electro Sketch"
- "Exit the Premises"
- "Ouroboros"
(licensed under Creative Commons: By Attribution 3.0 License)
From Chris Onyak:
- "Cliffs of Dover"
- "Empirical Quasar"
From Louise Byrne:
- "Megastar"
- "Next Level"
From Andy Ray:
- "Can't Stop Me"
- "Be Faster"

The game also uses fonts by Eeve Somepx.


Please report all bugs, problems and suggestions!


(You can contact me through the means on my profile page!)


Install instructions
Main game
Just download, unzip and start the "GameSlate" executable.
Level Editor
This program needs Java. You can get it here: https://www.java.com/de/download/
Afterwards just download the .jar and double click it to start the tool.
Download